Quality
Quality at the service of performance
Solcera promotes a complete quality approach to its customers, employees, suppliers and service providers.
In order to support our strategy of sustained and sustainable growth, the Solcera Management Committee is committed to
Promote our values: respect, responsibility, cooperation
Put customer satisfaction at the heart of all our activities
Deploy a continuous improvement plan with all employees, suppliers and subcontractors
Ensure full compliance with all legal and customer requirements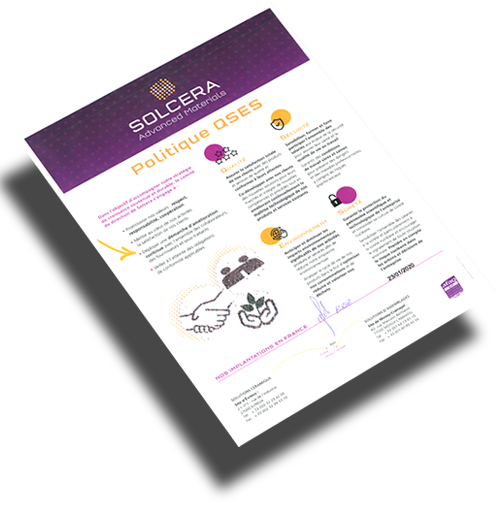 Download
QUALITY
Ensure complete satisfaction of our customers with quality products and services that fully meet their expectations.
Co-develop with our customers new solutions for their markets and integrate new skills and processes while continuously improving control of our existing products and services.
SECURITY
Raise awareness, train and involve all employees on safety issues to ensure their health and quality of life at work every day.
Guarantee safe and healthy working conditions to prevent work induced hazards and diseases, including psychosocial risks.
ENVIRONMENT
Anticipate and reduce environmental impacts of our activities, products and services in order to reduce our environmental footprint.
Analyze the life cycle of our products in order to optimize our consumption; reduce and recycle our waste.
SAFETY
Guarantee the protection of the company's scientific and technological heritage and consolidate its nuclear safety culture.
Raise employees aware on safety issues and particularly nuclear safety. Encourage the reporting of any abnormal situation. Consider nuclear risk for all company actions and decisions.
Contacts
ZI N°1 - Rue de l'industrie
27000 EVREUX
+33 (0)2 32 29 42 00
83 Rue Marcelin Berthelot
77550 MOISSY-CRAMAYEL
+33 (0)1 64 13 61 10